Ronnie Barnes African American Resource Center
On March 8, 2002, Joyner Library dedicated The Ronnie Barnes African American Resource Collection honoring Ronnie Barnes.
---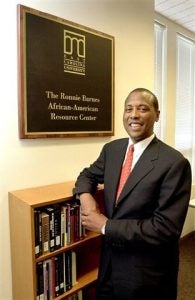 Mr. Barnes, a North Carolina native from Wilson, was the first African American to graduate from ECU's Sports Medicine Program in 1975. He started with the New York Giants as an intern in 1976 and is currently the Senior Vice President of Medical Services/Head Athletic Trainer. In 2022, he was inducted into the North Carolina Sports Hall of Fame and the New York Giants Ring of Honor. At the time of the collection's dedication, Mr. Barnes stated, "Being born, raised, and educated in North Carolina, I am a part of that experience. I am pleased to play a small part in developing an African-American Resource Center and literary collection that will serve as a reference and information center. It is fitting the University library would encompass an area dedicated to the study of the history, culture, and social institutions of African-Americans." 
The collection was formerly located on the second floor of Joyner Library in the Teaching Resources Center, but it has been moved to be near the related North
Carolina Collection on the 3rd Floor. The collection consists of biographies of African Americans, and outstanding, scholarly books written by and about African Americans, all related to North Carolina and the Southern United States. These materials are available for checkout for others to learn about the African American experience. 
The Ronnie Barnes African American collection also offers an impressive number of outstanding children's and young adult books written by African American authors. These titles are incorporated into the Teaching Resources Center's collections to ensure they are readily accessible for students enrolled in teacher preparation programs, area educators, and others seeking diverse, high quality juvenile literature.