Scholarly Communications
Scholarly Communication refers to the cycle in which authors create, evaluate, disseminate, and preserve new knowledge. This cycle includes a variety of activities such as using existing literature, conducting research, peer reviewing manuscripts and publishing new literature, as well as the collecting, archiving, and making available that new literature. For more information about scholarly communication, contact scholarlycomm@ecu.edu.
We are launching a thesis digitization project to digitize approximately 1,000 theses and dissertations and making them available for public access by adding them to
The ScholarShip
, ECU's Institutional Repository (IR).
Learn more
---
Scholarly Communications Lifecycle
Discover and Collaborate
Resource Management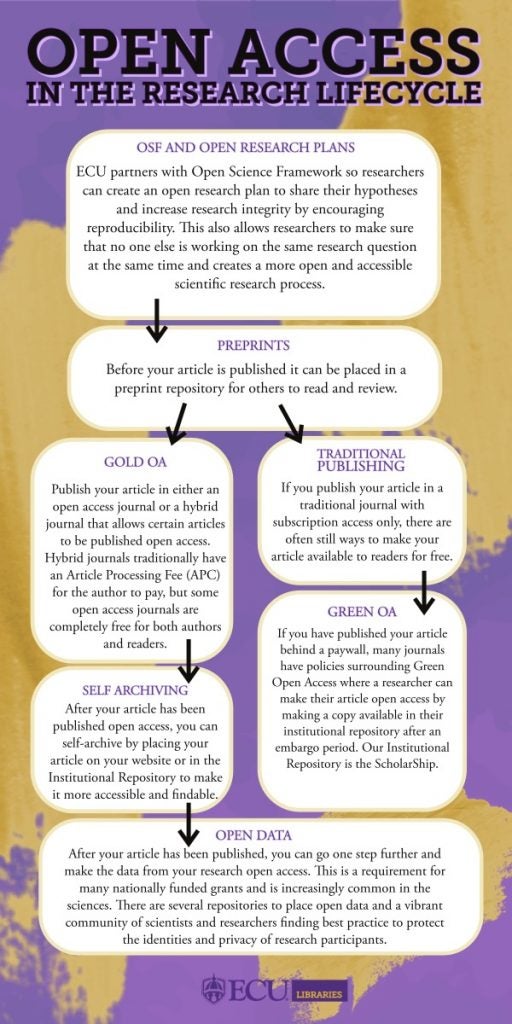 ---
Contacts
For scholarly communication questions, contact us at scholarlycomm@ecu.edu.
For copyright & fair use questions, contact us at copyright@ecu.edu.
Joyner Library Contacts
Wm. Joseph Thomas 252-737-2728
Assistant Director for Collections and Scholarly Communication
Jeanne Hoover 252-328-2261
Head of Scholarly Communication
Allison Kaefring 252-328-6293
Publishing and Open Access Support Librarian
Laura Bright 252-328-5379
Collections Strategist and Assessment Librarian
Jamie Brinkley 252-328-0412
Scholarly Communication Technician
David Durant 252-328-2258
Collection Development Librarian for Federal Documents and Social Sciences
Laupus Library
Use the Ask a Librarian service
Other Contacts