Adopt a Book
The Adopt a Book Program supports the work of our Preservation/Conservation team and helps subsidize the costs associated with the conservation of "at-risk" materials.
---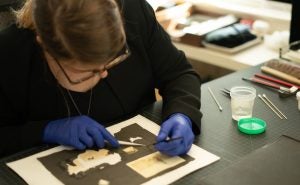 You can adopt a book, manuscript, map, or other item from our listed collections, which include Maritime, Pirates, and Maps. When you adopt an item, your donation goes towards the cost of preservation and conservation materials. Your support will be recognized and documented in the cataloging record for that item and on the Adopt a Book webpage.
By supporting conservation work such as rehousing, re-matting, and general maintenance for individual pieces, you have the opportunity to be part of preserving history at East Carolina University and ensuring that these rare books, manuscripts, and photographs are available for use by future generations of ECU students and researchers
---
Thank You!
We would like to sincerely thank the donors that have already participated in our Adopt a Book program.
History of the Pyrates I and II
Adopted by Michael and Alice Taylor
Maître du monde by Jules Verne
Adopted by John Brice Jr.
Running the Blockade by Thomas E. Taylor
Adopted by Michael Taylor
5000 Musical Terms: Complete Dictionary
Adopted by John Brice, Jr.
No Easy Walk to Freedom: An opera in two parts based on the life of Nelson Mandela
Adopted by John Brice, Jr.
S. by J. J. Abrams & Doug Dorst
Adopted by John Brice, Jr.
Clarence Stasavich Papers
Adopted by Michael Taylor

Autographs for Freedom
Michael and Alice Taylor