Welcome to Research & Instructional Services
Research & Instructional Services (RIS) provides research assistance to the East Carolina University community and region. That support has grown over the years to include about 77 hours each week of physical and virtual research help desk coverage; seated, virtual, and tutorial-based library instruction; an active, robust research consultation service; and planning and participation on a range of events, programs, and collaborations across campus. Have a question about what RIS can do for you?  Get in touch with us at askref@ecu.edu.
---
Quick Links
---
Research Help Desk
Our service desk is located on the first floor of the library at the end of the main hallway. During our hours of service, we are also available by phone, text, email, and chat (look for the "Chat with a Librarian" button in the bottom-right corner of your screen).
Visit us anytime with your library or research-related questions. For more involved questions, consider scheduling a soon-as-next-day "Book a Librarian" research consultation below.
---

Library Instruction
RIS provides quality instruction focused on improving student library skills, their awareness of library collections and services, and their mastery of life-long information literacy concepts. Instruction sessions can be tailor made for your class or specific assignments.
We have classrooms available here in the library to meet with your classes, and we can also venture out to visit your classroom. We can provide basic instruction on locating peer-reviewed articles and other materials, working with primary and secondary sources, evaluating information, effective search strategies, and more.
Do you only have fifteen minutes of class time to spare?  We are happy to drop by your classroom for a quick database demo too.  Once you schedule an instruction session, you will receive a library confirmation email from us.  Have something completely different in mind for your students?  Reach out to us directly anytime at askref@ecu.edu.
Click the request link below and let us know what works best for you.
Request an Instruction Session
---
Book a Librarian Consultation Service

Do you have questions about where to find high quality information for your research-based assignments?  Our librarians can meet with you in person, by phone, by email, or virtually as soon as next-day. Click the link below and select a time that is convenient for your schedule, and be sure to let us know a little about your topic.
---

Research Guides
We can meet with your students in person, via chat, using online meeting applications, or over the phone if you'd like them to receive more personalized help. They simply select a time (as soon as next day) that is convenient for their busy schedules.
Our Commitment to Information Literacy
RIS is committed to developing life-long information literacy concepts in our students. In striving to achieve this, we utilize the Framework for Information Literacy, developed by the Association of College & Research Libraries (ACRL).  Learn more about Information Literacy
---
Pirates in the Library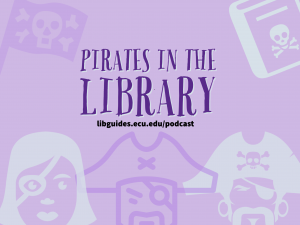 The official podcast of Academic Library Services
Listen now
---

Resources for Students
Library 101 provides you with an overview of the basic library research skills needed to succeed in college.
Graduate 101 provides a basic overview of the library research skills, services, and resources essential to graduate students.
---
Resources for Faculty
---
Resources for Librarians
---
Our Friends
---
Desk Hours