Class held for bookbinding, techniques
A bookbinding class led by Academic Library Services rare book conservator Larry Houston was held in the Main Campus Library on Wednesday afternoon, giving insight into how books are sewn and preserved at the library.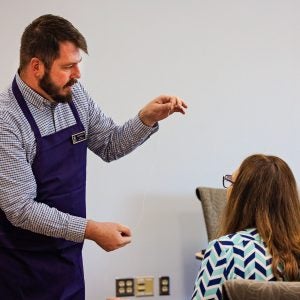 The event was free to members of the Friends of the Library. This workshop taught guests how to make their own book using a sewn board binding method. This modern variation on an ancient method of bookbinding yields an elegant book, suitable for drawing, writing or sketching.
Yearly Membership Levels for the Friends of the Library:
ECU Employee/Student – $25
Individual Membership- $35
Family Membership – $50
Bronze Sponsor – $150
Silver Sponsor – $250
Gold Sponsor – $500
Platinum Sponsor – $750
Patron's Wall – $1,000
Become a Friend of the Library here: https://library.ecu.edu/giving/friends/