About Dr. Michael Bassman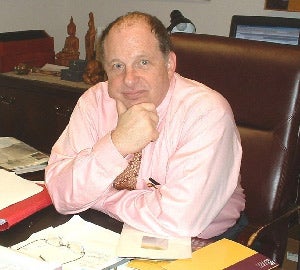 Dr. Michael F. Bassman is the first Distinguished Honors Professor for the Honors College at East Carolina University. Until his appointment to this position, he provided leadership and direction to the University Honors Program in his role as Associate Vice Chancellor for the University Honors Program.
In 1998, upon the retirement of the first director, there was an on-campus search for a new director of the Honors Program. Dr. Bassman, then Coordinator of the Ethnic Studies Program and Associate Chair of the Department of Foreign Languages and Literatures, was selected for the three-quarter time position. After one year, he successfully had the position changed to full-time while convincing the Vice Chancellor at the time that different accommodations were necessary to give legitimacy to the program. Several classrooms in Brewster were then renovated for use as office space for the Honors program.  Dr. Bassman then focused on program visibility while making certain that the necessary administrators throughout the university were made cognizant of the advantages of the Honors Program. In time, he added paid Undergraduate Research Assistantships, a Passport Program, and an Honors Residence Hall shared with International Affairs.
Emphasis was also placed on community engagement and study abroad. In fact, over time, he and his students developed strong ties with Belvoir Elementary School and the surrounding community of Latino migrant families. As a result of their relationship with the school, there was a marked increase in reading scores among the minority children which eventually led to a major award in a competition sponsored by Bank of America. In 2003, the EC Scholars were placed under Dr. Bassman's supervision. At the same time, he was in charge of undergraduate fellowships and scholarships. Dr. Bassman introduced the Undergraduate Research Program on campus as well as the annual Undergraduate Research Symposium.  He was the founding member and Editor-in-Chief of Explorations – The Undergraduate Research Journal for the State of North Carolina. Perhaps his most important legacy in the University Honors Program was his dedication to the students. During his tenure, he always had time to advise a student, whether academically or personally. Under his leadership, the University Honors Program increased in number of students and number of graduates going on to medical school or doctoral programs. Moreover, with his assistance twelve students were awarded Fulbrights and two received Goldwaters. His seminars continue to fill up quickly as students know that they will be challenged.
Dr. Bassman, originally from New York City, completed his B. A. in French and Latin at Brooklyn College of the City University of New York. He was then awarded a fellowship to study at Brown University for the M.A.T. in French. During his last six months at Brown, he also taught French and Latin at a rural high school in Rhode Island. The next step in his career found him at the University of Connecticut where he received both a fellowship and Teaching Assistantship to pursue the M.A. and PhD. degrees in Romance philology. He took one year away from the university when invited to serve as Associate Director of the UCONN Program in France (six months in Paris followed by ten months in Rouen).  Upon returning to Connecticut for his doctoral exams, Dr. Bassman successfully applied for a Fulbright fellowship to Romania where he spent two years researching his doctoral dissertation. After teaching for several years, his area of interest became Jewish life in Eastern Europe before WWII and the Holocaust. To increase his knowledge base, Dr Bassman returned to school and studied at the following institutions: Columbia University (Yiddish Studies); Hebrew University of Jerusalem and Yad Vashem (Holocaust Studies); National Endowment for the Humanities Summer Seminars (Princeton University; Harvard University; University of Washington).
Dr. Bassman was hired by East Carolina University to teach French and Latin. As a proponent of interdisciplinary studies, he was a founding member and then Coordinator of the first interdisciplinary program at East Carolina: Medieval-Renaissance Studies. In the late 1980's, he was co-founder and then Director for ten years of the Ethnic Studies program. Dr. Bassman is known as an active and innovative member of committees on-campus as well as local and international organizations, and as Past President of Phi Kappa Phi, Dr. Bassman was asked to compete for the position of Regional Delegate. While serving as President of our chapter of Phi Kappa Phi, the National Organization selected our chapter as one of five (out of 341) to be awarded the "The Chapter of Excellence" Award (a plaque and a check for $500).  More recently he was elected Vice President for the Southeast Region at the national convention.  Dr. Bassman founded the Holocaust Studies program here at ECU, and offered many well-received workshops across the region to teachers, enhancing their knowledge and understanding of the lessons of the Holocaust.
Michael Bassman has been the recipient of numerous awards and honors and grants. Relevant examples include The Board of Governors Distinguished Professor for Teaching Award and the ECU Service Award. He has also authored numerous refereed articles and chapters. Dr. Bassman is retired from East Carolina University and maintains a very active schedule of volunteer activities and travel. He lives in Cary, N.C.