ECU's Campus Reads – short stories for the modern reader
Have you ever heard of Matt Kirkland's Dracula Daily? Our publishing and open access support librarian Allison Kaefring has, and she's rethinking how she will be reaching students this Fall. Her initiative — ECU's Campus Reads — will send book club subscribers a spooky story in short, manageable sections two to three times a week.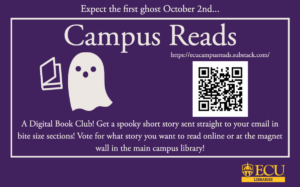 Reading designed for students, staff, faculty and local residents on the go!
Interested? Subscribe via email and the first story installment will arrive in your mailbox on Oct. 2 and continue until Halloween. This delivery style ensures readers may digest the story at their own pace and catch up on segments during a study break, in line at Starbucks or anytime they have five minutes to spare.
If you don't prefer emails, no problem! Sections of the story will be on Substack or linked @Joynerlibrary on Twitter, Instagram and Facebook.
The best part? ECU gets to pick the story! Throughout September, the magnet wall in the main campus library will have a spot for voting, in addition to online voting.