Reception held for artists
A major part of the 15th annual School of Art and Design Graduate Student Art Exhibition occurred Feb. 23 in the Janice Hardison Faulkner Gallery with a reception and awards ceremony for the participating artists from the ECU School of Art and Design.
Juror Jordan Krutsch, an art instructor at Pitt Community College, lauded the variety and details in the artworks in the exhibition.
"There's a lot of great work here that I have seen, and a pretty good array of work, too," Krutsch said. "You had everything from paintings to very figurative works and abstract works. I spent a long time walking around in here looking at everything."
The ceremony featured the announcement of Joogab Kim as the Friends of the Library Purchase Award winner.
The 18 participating artists were Sina Bennett, Emily Booker, Tamia Boone, Parker Estes, Michael Gaines, Kidd Graves, Nick Hesson, Joogab Kim, Haley McElroy, Anthony Naimo, Thaddeus Prevette, Loi Scalamoni, Chase Shotton, Haleigh Stanley, Katelyn Stanley, Lindsay Swan, Lee Turner and Morgan Zichettella.
Remarks came from Krutsch, library director Jan Lewis, School of Art and Design director Kate Bukoski and Linda Kean, dean of the College of Fine Arts and Communication. Bukoski thanked the graduate students for engaging in the annual exhibit.
"I know it takes time and energy to put together your application," Bukoski said. "I appreciate your willingness to put yourself out there."
Friends of the Library Purchase Award: A Starry Night, by Joogab Kim. Red clay, color stains.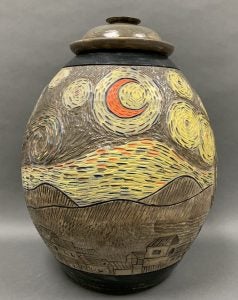 College of Fine Arts & Communication Dean's Merit Award: Power Trip, by Lori Scalamoni. Oil on canvas with acrylic transfers.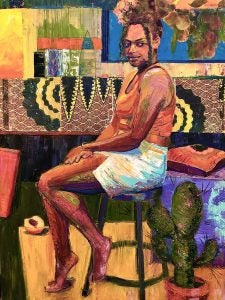 School of Art & Design Director's Award: Ruishi, by Lindsay Swan.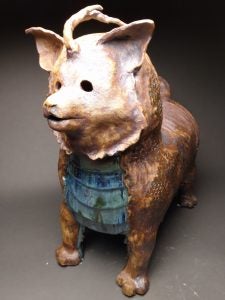 School of Art & Design Award: Echos, by Emily Booker. Metal design – copper, sterling silver, plique-a-jour enamel, light box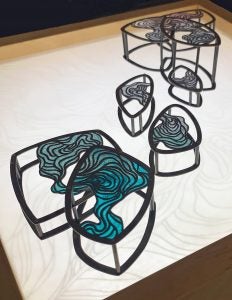 Dowdy Student Store Award: Ribbons, by Michael Gaines. Digital photograph.