Sensory space embraced on 2nd floor
Various students are enjoying the sensory-safe space inside the East Carolina University main campus library.
Student initiative helped greatly for the introduction of this sensory space, which is on the second floor and has been an attraction to library visitors.
Positioned behind the Janice Hardison Faulkner Gallery with two entrance doors, the space is open weekdays from 8 a.m.-5 p.m. on a drop-in basis. It features fidget toys, adjustable lighting, an array of seating options, a unique tactile wall, bubble tube, 55-inch monitor and other colorful, calming accessories.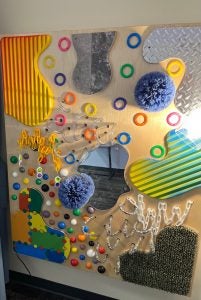 Honors College students Izzy Colberg and Maelee Becton were instrumental in the process, along with former library administrative services student employee Jaylyn Johnson, in working with Academic Library Services assistant director for public services Mark Sanders for the curation of the ongoing asset to Academic Library Services and ECU students, staff and faculty.
"I wanted to see a sensory-safe space somewhere on campus because I know what it's like to be a neurodivergent student with a lack of resources," Becton said. "It can also be extremely nerve-racking for people to have a resource that requires them to reach out to get a key or special access, so I liked the idea that a study room would be fair use. Joyner (Library) was a central location on campus, but it also created the potential for more accessibility that normal study rooms might not always have."
One of the main goals of having the sensory space is to provide an option for people who might prefer a more quiet, calming study room. Check out more photos and information on the room features here.
It didn't take long for students this semester to provide feedback on the positive addition to the library's study options.
"Students are super engaged with the sensory space," library director Jan Lewis said. "They use the whiteboard in the room to leave feedback and suggestions. Two popular additions – adjustable lighting and a rainstick – were suggested by students. Comments like, 'This room is so fun' and, 'Such a cool concept' help us know we're on the right track. We're appreciative that the Friends of the Library provided initial funding for the sensory space. Next up for us is creating a family study space, as we try to make the library more inclusive and foster a sense of belonging for all our students."
The overall connection Becton has to the space is important not only to her. She envisions the space's versatility can benefit a lot of students.
"It's nice to provide a selection of resources that are diverse for a diverse group of students," she said. "The idea that it isn't just based off of one person's experience, but the tools and resources that different people might use is one of my favorite parts. Though overall, my favorite part is probably the fact that it's a space where neurodivergent students don't have to feel odd or different. It can be alienating to be neurodivergent, so the idea that there's a place you can be your authentic self is much more important than anything that could be physically put inside the space."