From the Eyes of Western Artists
The Faulkner Gallery on the second floor of the main campus library is part of a campus-wide art exhibition, "Old Korea from the Eyes of Four Western Artists."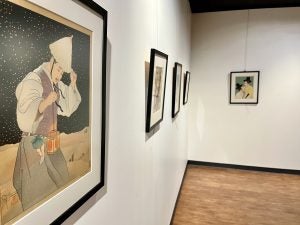 The exhibition features artwork by Elizabeth Keith (1881-1956), Paul Jacoulet (1896-1960), Lilian May Miller (1895-1943) and Willy Seiler (1903-1988).
It was featured by ECU News here, and also in The Daily Reflector.
"To some extent, this exhibition is the response to the prejudice toward Asians in America," said Dr. Jin-Ae Kang of the ECU School of Communication, who curated the exhibition with Dr. Borim Song from the School of Art and Design. "The artworks in the exhibition focus on how Westerners perceived Korea in the past, but it now asks us how we also process and consider others today. We want visitors to learn an appreciation of diversity, and love for humanity regardless of cultural background or skin color."
The College of Fine Arts and Communication and School of Art and Design invite spectators to this free-to-the-public exhibit located at the Wellington B. Gray Gallery (main), Faulkner Gallery, Spilman Gallery and Proctor-Yongue House.
An opening reception and event is set for Sept. 2 at 5 p.m. at the Wellington B. Gray Gallery. The exhibit is scheduled to run through Oct. 1.
More information on the collectors, including Dr. Juliet Kim Song who was the first female full-time doctor at Pitt County Memorial Hospital (now ECU Health), artists, ECU hosts, a full schedule of events and more is available at www.oldkorea.net.