ERASISM project – Exploring Racism And Systemic Inequities through Students' Memories
Current and future East Carolina University students are the focus of the ERASISM Photovoice Project curated by faculty members Tamra Church and Dr. Kristin Black from the College of Health and Human Performance. The exhibit was featured on the first floor of the Main Campus Library in April and May, as part of the display's tour around campus that began last October at the Belk Building and also has included stops at the Ledonia Wright Cultural Center and Hendrix Theatre.
ERASISM is an acronym for exploring racism and systemic inequities through students' memories. This stems from five conversational sessions by Black and Church with seven HHP students during the spring of 2021. The exhibit consists of photographs and direct quotes from these students, who are not named as part of the research project.
"I think our project has shed light on some of the issues and concerns our students of color face every day on our campus, and through this photo exhibit, has allowed us to start conversations around the project that may not have happened without it," Church said. "It sparked conversations within the classrooms of HHP. … I would like to believe our project contributed to the HEP Diversity Committee's interest in conducting syllabi reviews to highlight how faculty are including diversity, equity and inclusion in the courses we teach. The screening of "I Wish You Knew," panel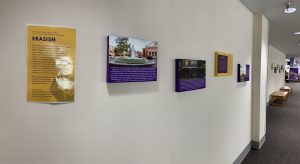 discussion and ERASISM photovoice exhibit that we planned and organized allowed us to start this conversation across campus and the larger community, as did the exhibit during the ERASISM round table discussion at the Ledonia Wright Cultural Center. Our project led to a short film that will air in the fall semester, and we hope will start the larger conversation around the need to create an anti-racism culture here at ECU."
The opening statement by Black and Church, which provides background on the research project, ends with the following sentences: "What you see here is a collection of the students' photos and direct quotes from our conversations. Ultimately, we hope this project ignites conversation and contributes to ECU's goal of cultivating an anti-racism culture on campus. We welcome your questions and comments, so don't hesitate to email us (Kristin Z. Black, blackkr18@ecu.edu; Tamra J. Church, churchta14@ecu.edu).
Black recently presented about the ERASISM Photovoice Project at the Society of Behavioral Medicine annual meeting in Baltimore.
"In order to create an anti-racism culture on campus, which was the goal of that call (by the ECU Office for Equity and Diversity), we needed to hear from students' experiences," Black said in a video interview with Michael Daniels from the ECU School of Social Work. "We came up with this idea of thinking about how are they experiencing racism on campus? That's not only in those 1-on-1 kind of experiences, but also the things that might be happening in our system that we can improve and change such as our policies, our procedures and our culture here at ECU."
ECU Academic Library Services director Jan Lewis said the ERASISM Photovoice Project is an example of the library serving as a setting for exhibits to tell powerful stories via photographs and words.
"We curate exhibits featuring materials from our own collections, host traveling exhibits and collaborate with students and faculty at ECU to showcase their work," Lewis said. "Exhibits tell powerful stories using both images and words. Academic Library Services is committed to featuring exhibits that convey a variety of messages consistent with the values and mission of ECU. Since our library is open long hours, seven days a week, it is one of the most accessible locations for not only the ECU community, but the wider community to view exhibits and reflect upon their content. We invite everyone to come to the library to view the powerful ERASISM photovoice exhibit and the other exhibits currently on display in multiple locations throughout the library."
The ERASISM Photovoice Project was funded by the College of Health and Human Performance and the Department of Health Education and Promotion.