A view of historic photographs
On loan from the Museum of the Albemarle, Look Again: Discovering Historical Photos examines how the introduction of photography changed the way in which history has been recorded.
Check it out in the Janice Hardison Faulkner Gallery on the second floor of the ECU Main Campus Library.
Consisting of reprints of photographs from the collection of the North Carolina Museum of History in Raleigh, Look Again highlights the evolution of the photographic process from the end of the 19th century through the 20th century. It features several daguerreotypes, ambrotypes, tintypes and glass-plate negatives for patrons to view, complemented by accompanying information to read.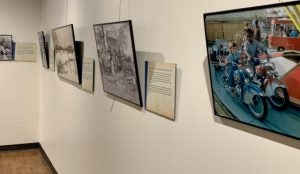 Coinciding with Look Again: Discovering Historical Photos traveling exhibit, a number of historic photographs from ECU Academic Library Services collection also are on display in the Faulkner Gallery. Curated by Patrick Cash, Assistant University Archivist, and Larry Houston, Library Conservator, these photographs feature some of the oldest and rarest images found in Special Collections.
Images from the East Carolina Manuscript Collection feature examples of the earliest photographic processes developed during the 19th century.  Included in these is a rare photograph from Eadweard Muybridge's 1878 series "Horse in Motion." Muybridge's sequential photographs of human and animal locomotion were the precursor and foundation for the development of motion pictures.
Along with the images from the East Carolina Manuscript Collection, there are several from University Archives also on display. These images include a 1908 photograph of the groundbreaking ceremony for the East Carolina Teachers Training School, as well as photographs of the first faculty and the first student body of the institution, both dated 1909. These photographs, along with others, highlight some of the most significant and interesting events from the early years of East Carolina.