Reception held for grad student art show
A reception and awards ceremony was held Feb. 24 for the 14th annual School of Art and Design Graduate Student Art Exhibition, bringing together the artists, colleagues and friends for an evening of recognition.
Artwork by the graduate students is on display in the Janice Hardison Faulkner Gallery on the second floor of the library through Feb. 28.
The ceremony ended with the announcement of Loraine Scalamoni as the Friends of the Library Purchase Award winner.
The 18 participating artists this year were: Julienne Beblo, Sina Bennett, Adam Berman, Tim Christensen, Lauren Delbrocco, Brianna Earl, Michael Gaines, Kidd Graves, Nick Hesson, Katya Hutchinson, Madi Johnson, Joogab Kim, Anthony Naimo, Thaddeus Prevette, John Rhodes-Pruitt, Loraine Scalamoni, Lindsay Swan and Morgan Zichettella.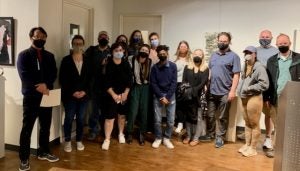 "You can see all of the different ways you have expressed meaning," said Dr. Linda Kean, professor of communication and dean of ECU's College of Fine Arts and Communication. "To have this experience is very joyful for me. I'm just honored that I am able to be a part of what you all are doing. I really appreciate the breadth and depth of your talent and the commitment you show to your work."
Added library director Jan Lewis on Scalamoni's winning work: "It's student collaboration and learning, so it is perfect to be here in the library where a lot of that activity goes on. It's an understatement and I do think it shows casual intimacy in a real nice setting. I know it is going to be enjoyed by people who come into the library for years to come."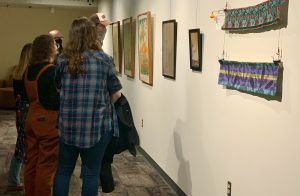 Watch a video featuring all of the artwork.
The juror for the exhibition was Dee Dee Briscoe Oliver, visual arts coordinator for Wilson Arts. All award winners are listed below.
Awards
Friends of the Library Purchase Award Winner: Creative Substance, by Loraine Scalamoni. Oil on canvas.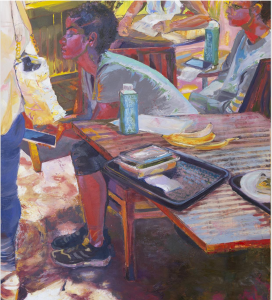 College of Fine Arts & Communication Dean's Merit Award: Goldenrod, by Adam Berman. Lithography with screen print and gold leaf.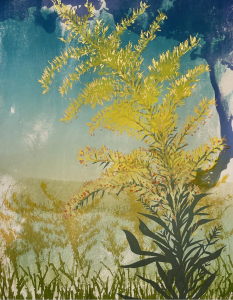 School of Art & Design Director's Award: Body Series N1, by John Rhodes-Pruitt. Mixed media/screenprint.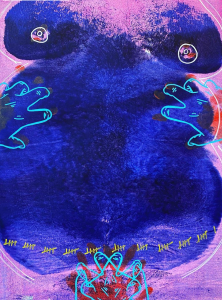 School of Art & Design Award: Steam, by Katya Hutchinson. Intaglio and monoprint.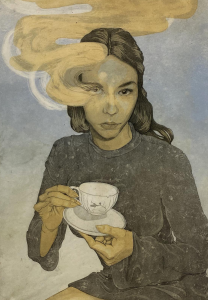 Dowdy Student Store Award: Rooted, by Sina Bennett. Ceramic and combined media.