Year in Review 2020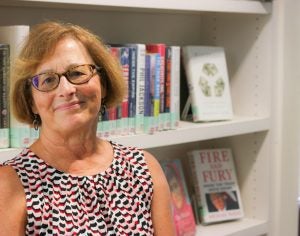 A message from Library Director, Jan Lewis
Is it 2021 yet? Like many of you, I can't wait to get to the other side of this pandemic. We mourn those who lost their lives or have been sickened by COVID-19. We regret the opportunities our students have missed by not being able to have a normal academic experience. We recognize the need to address the inequalities in our country. However, we also celebrate the perseverance of ECU students, employees and supporters as, together, we have made it through a year like no other and have learned valuable lessons along the way
Chief among these are the importance of people, relationships and values. I want to take this opportunity to thank the employees of Academic Library Services who have gone the extra mile to ensure that students had the resources and expert guidance they needed to continue with their studies, that faculty had seamless access to research materials, that our physical environment was safe, and so much more. The Year in Review illustrates how our behavior and actions are driven by our shared values of service, respect for others, lifelong learning, information access, innovation, accountability, diversity and safety.
In 2020, we translated our values into an actionable commitment to build a sustainable model of scholarship by engaging with information vendors that emphasize open access, transparency in pricing, and financially viable business models; by educating researchers on best practices in making research openly available; and by supporting those practices by investing in systems that foster open scholarship and information sharing. These principles will shape how we steward academic research produced by ECU researchers and acquire information in a manner that is accessible openly and widely to the community of scholars.
We have not been able to host physical events or programs since March 20, but those activities have continued using online platforms. Many of these activities are discussed in the Year in Review. I do want to draw your attention to the Paraprofessional Conference which drew a record-setting attendance in excess of 300 people and our virtual exhibits available 24/7.
Finally, I want to focus on the legacy of 2020. This year marked the 57th anniversary of Dr. King's March on Washington and the 65th anniversary of the murder of Emmett Till. But racial justice and equity still elude us. At Academic Library Services, we are trying to take positive steps through actions such as our anti-racism statement, Black Lives Matter anti-racism resource guide, commitment to diverse and inclusive collections, staff training and Social Justice Community Collection.
2020 also marked the 100th anniversary of the 19th Amendment and women's constitutional right to vote. Amazing to think about, isn't it? I think about my Aunt Beth who celebrated her 103rd birthday in August, loves to discuss politics, and was alive when women could not vote. There are still opportunities to document these stories, and we are doing so through the "She Changed the World: NC Women Breaking Barriers" project. I was humbled to be included in this project along with former legislator and education leader Edith Warren (chair of the Joyner Library Advancement Council) and others in our community.
Thank you for your support of Academic Library Services and ECU. Together we can advance our shared values and grow stronger. Go Pirates!