Postponed: Urban Renewal & the North Carolina Landscape symposium
*The symposium has been postponed. Details to come.*
Urban Renewal and the North Carolina Landscape
A Drive-In Symposium
Friday, April 24, 2020 
Honorariums are available. – Please contact us if you are interested in attending and would like to present your research or community's project! 
Please contact Heather White at whiteh@ecu.edu or (252) 328-2870 for more information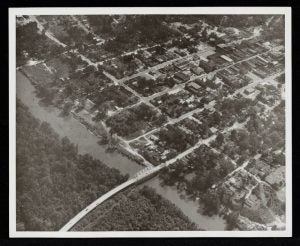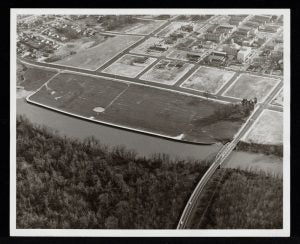 The area near present day Town Common in Greenville, NC before and after the Shore Drive Redevelopment Project. (Image from ECU Digital Collections) 
Friday, April 24, 2020 
Joyner Library hosts the Community Symposium "Urban Renewal and the North Carolina Landscape"
Joyner Library's Urban NC Project Symposium will facilitate a larger historical, cultural, and analytical framework working to encourage long-term collaborative partnerships through the observation and discussion of urban displacement in North Carolina.
The Drive-In Community Symposium, "Urban Renewal and the North Carolina Landscape" will facilitate discussions related to the scholarship surrounding Urban Renewal and its historic as well as ongoing effects on North Carolina communities.
We invite scholars from across North Carolina to present their related projects in short "lighting rounds" during the morning sessions. Afternoon sessions will be formatted as round table conversations considering opportunities to work together to tell these stories on a larger, collaborative state-wide scale. From this event, our goal is to develop a comprehensive listserv for ongoing discussions and create a foundation for future collaboration.
Honorariums are available. – Please contact us if you are interested in attending and would like to present your research or community's project! 
Please contact Heather White at whiteh@ecu.edu or (252) 328-2870 for more information