2019 Joyner Library Year in Review
2019 was an exciting one for Joyner Library. We hosted thought-provoking exhibitions and speakers, added to our collections, enhanced our affordable textbook initiatives and created new student study spaces throughout the library – all with the goal of furthering student success. Our year in review captures some of the highlights of the past 12 months.
As always, we are grateful for our partners, collaborators and supporters across campus and the community. We look forward to the opportunities 2020 holds for Joyner, the university and our region.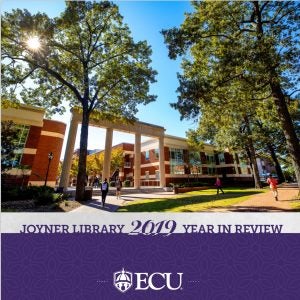 Learn more in our 2019 Joyner Library Year in Review