$1,000 Student Research Award – Robert Morgan Papers
Joyner Library is pleased to announce a new student research award honoring Senator Robert Morgan and his legacy of service to North Carolina and to ECU.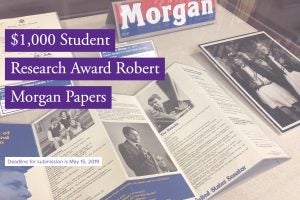 Do you have students interested in research in areas such as politics, public policy, law, education, criminal justice or sociology?
A new student research award has been established, honoring Senator Robert Morgan's legacy and raising awareness of his papers here at ECU.
The $1,000 award will be granted to recognize excellence in student research. The award is open to undergraduate and graduate students. Submissions may be traditional papers or scholarly digital projects and must focus on material contained in the Robert Morgan Papers, in Joyner Library's Special Collections. The Morgan Papers reflect his career in the legislative and executive branches of government and as a lawyer, as well as a member of the ECU Board of Trustees. They span topics including government, politics, law, special and higher education, history, public administration, sociology and criminal justice.
The deadline for submission is May 15, 2019.
For more details, please see the attached or visit https://library.ecu.edu/awards/senator-robert-morgan-papers-student-research-award