14th annual Librarian to Librarian summit builds connections
More than 130 school librarians and media coordinators, Master of Library Science students and library faculty from across the state gathered for the 14th annual Librarian to Librarian Networking Summit, held at Joyner Library on Feb. 23, 2019.
Said organizer Alan Bailey associate professor and head of services for Joyner Library's Teaching Resource Center, "Opportunities to participate in professional development activities are often unavailable to K-12 media coordinators due to lack of funding. The Librarian to Librarian Networking Summit provides an affordable option for school librarians."
Attendees took part in sessions on wide-ranging topics, including advocacy, coding, collaboration in a virtual world, finding and using open education resources, and connecting with funding opportunities. They also made time to interact with school book, database, and furniture representatives, learn about ECU's master of library science program and further develop their professional networks.
Award-winning illustrator Gordon C. James was keynote speaker; he read from his project, Crown: An Ode to the Fresh Cut, written by Derrick Barnes, which won more than 10 national book awards including the Randolph Caldecott Medal, the John Newbery Medal, the Coretta Scott King Book Award and the Ezra Jack Keats Book Award.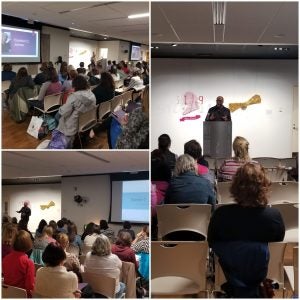 James also shared thoughts about his illustration process and guided audience members through the illustration of an imaginary book.