Call for Applications: Joyner Library Alternative Textbook Program
Joyner Library seeks applications from ECU faculty to participate in next year's Alternative Textbook Program. Alternative texts may include open textbooks, library subscription materials, and other free materials. Up to 10 awards of $1,000 will be awarded.  Funding will be transferred to departments via Banner Budget Transfer and may be used for supplies, student wages, travel, or other materials.  For more information or to apply, please visit the Alternative Textbook Program site. Questions can be sent to scholarlycomm@ecu.edu.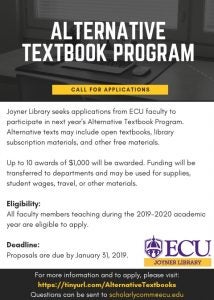 Eligibility:
All faculty members teaching during the 2019-2020 academic year are eligible to apply. Any course is eligible, but extra weight may be given to be given to courses with 100 students or more, ECU Foundation courses, and/or distance education courses.
Program Requirements:
Awarded faculty agree to provide feedback on their experiences using alternative texts and a list of selected materials or updated syllabus used in the course.
Deadline:
Proposals are due by January 31, 2019.
Application and Program Information:
Alternative Textbook Program website
Questions:
Please contact us at scholarlycomm@ecu.edu.