Blackbeard Family Fun Day
Saturday, October 20 * 10:30am-1:30pm
Join us for a great opportunity to view the Queen Anne's Revenge Blackbeard 300 exhibition and enjoy FREE activities including performances by ECU's Storybook Theater, facepainting, kids activities, and more!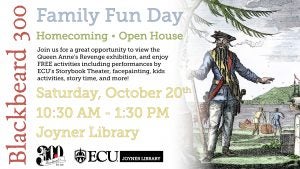 ECU's Storybook Theater Performance
"It's a Pirate's Life for Me!"
10:30am in the Janice Hardison Faulkner Gallery,
2nd Floor
Scavenger Hunt
Joyner Library's Teaching Resources Center will have a Scavenger Hunt beginning at 10:30 a.m. until 2:00 p.m. Come to the TRC Service Desk on the 2nd floor to pick up your map & first clue. For every clue you solve, you will earn some pirate loot &  another clue! At the end, find Blackbeard's treasure chest!
Blackbeard Children's Books
Joyner Library's Teaching Resources Center has an exhibit of children's books and materials for readers of all ages! Make sure to check out these two displays – one specifically about Blackbeard and one about pirates everywhere!
A Time for Science Planetarium Show
Come see the stars as Blackbeard would have seen them to navigate his way in search of treasure! A Time for Science will have its indoor planetarium with spectacular astronomy shows beginning at 10:45 a.m. and ending at 1:15 p.m.
Showtimes are:
10:45 a.m.
11:20 a.m.
12:00 p.m.
12:40 p.m.
1:15 p.m. — Final show
Please note: Shows are limited to groups of 15 people. Please meet at the designated area in the Teaching Resources Center on the 2nd Floor of Joyner Library about 5 minutes before the show!
Facepainting & more!!!!!
——–
About the Exhibitions
Blackbeard 300
Janice Hardison Faulkner Gallery  – 2nd Floor, Joyner Library
To commemorate the 300th anniversary of Blackbeard's notorious adventures along the North Carolina Coast — the place where he was ultimately brought to justice — Joyner Library is showcasing a traveling exhibit with artifacts from his wrecked flagship.
Blackbeard Fact and Fiction
North Carolina Collection  – 3rd Floor, Joyner Library
Explore the fascinating world of Blackbeard through historical texts and fiction titles taken from the library's own rare book collection.
For more information please contact:
Heather White
Assistant Director for Assessment & Engagement, Joyner Library
East Carolina University
Greenville, NC 27858
Phone (252) 328-2870
Email: whiteh@ecu.edu