"Building the State Park System in North Carolina" on exhibit in Joyner Library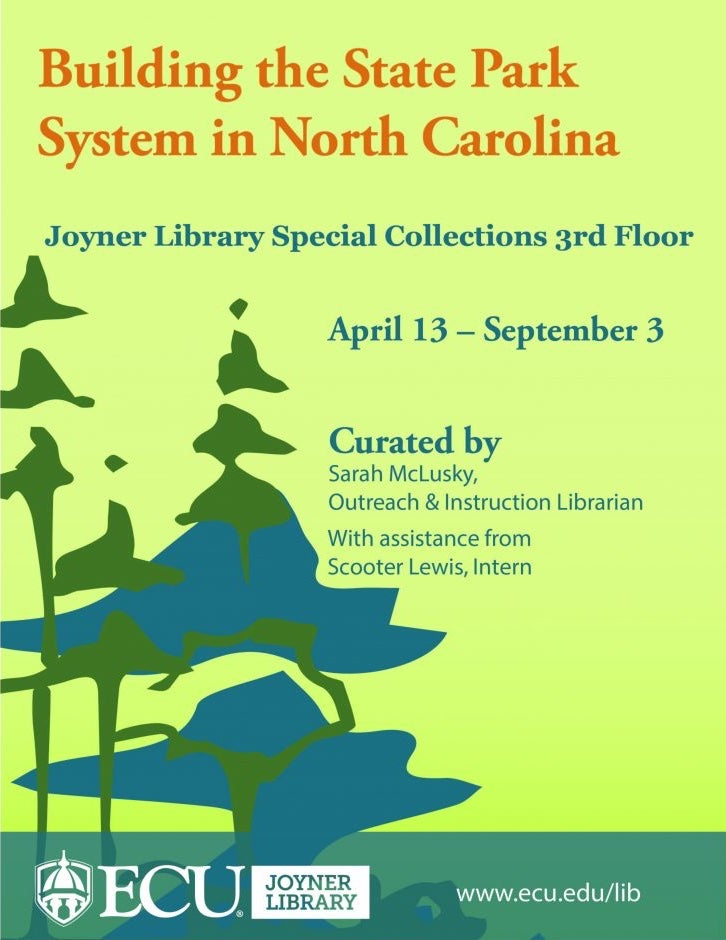 "Building the State Park System in North Carolina" is on display in the Verona Joyner Langford North Carolina Collection on the third floor of Joyner Library.
Books, pamphlets and documents from the North Carolina Collection and the East Carolina Manuscript Collection tell the story of the park system's origins, its subsequent expansion and relationship to eastern North Carolina.
It also focuses on North Carolinians' interest in and advocacy for the park system and the state government's role in establishing and maintaining parks.
The exhibit's timeline spans from the 1910s when the park system depended on private donations and federal assistance to the establishment of more permanent funding sources in the 1990s.
Material about recreational opportunities in the state as well as books about three parks in eastern North Carolina are also featured.
"Doing the research for this exhibit has given me a greater appreciation for the variety of outdoor experiences we have access to in North Carolina," said Sarah McLusky, outreach and instruction librarian in special collections. "I hope visitors enjoy learning about the many different ways in which new state parks were created, and perhaps even discover a nearby park they need to visit themselves."
The exhibit will be on display through Sept. 3.
For additional information, contact the North Carolina Collection at 252-328-6601 or email Mcluskys16@ecu.edu.