Marie and James Thompson Student Awards
Joyner Library announced this year's winners of the James and Marie Thompson Student Award for outstanding student employees on May 15.
Established by James and Marie Thompson, both members of the Joyner Library Advancement Council, the $500 awards recognize two students employed by Joyner Library. Both winners will be given a chance to meet the Thompsons later this year during the fall 2017 Advancement Council meeting.
"We are extremely grateful for Marie and James Thompson, and their continued support of library student workers," said Heather White, Assistant Director for Assessment & Engagement. "Joyner Library is so pleased to recognize student excellence and service because dedicated student employees provide a significant role in our mission's success."
Eligibility criteria required applicants to have worked in the library at least one semester while attending East Carolina University as a full time student, and be committed to working in the library for the 2017 fall semester.
In addition to completing the spring semester with a 3.0 or higher grade point average, students were required to submit a personal statement about the value of their work experience along with a letter of support from their supervisor.
Graduate students, John Dunning from the department of library science in the College of Education and Jacob Parks from the department of public history in the Thomas Harriot College of Arts and Sciences, were chosen by the Joyner Library selection committee.
"I enjoy working at Joyner," said Dunning. "We are very fortunate that Joyner takes care of their student workers and offers opportunities like scholarships which help with the cost of our education."
Some of Dunning's work focuses on the Special Collections research room where he helps patrons access Joyner's manuscript collections, rare books, and materials from the North Carolina Collection and University Archives. He believes by serving others and facilitating their access to information, he helps lessen the anxiety the search process can bring. He also hopes his assistance helps researchers to be better prepared and produce high-quality work.
Dunning plans to work as an academic librarian after graduating with his master's degree from the library science program. "I value all the experience I am gaining as I work here," he said. "I know that it will prepare me to work in the field and better serve the community where I continue my career."
"The library is more than a hallowed hall of books," he continued. "Joyner Library provides vital services to students, faculty, and the local community, and their staff is committed to serving those patrons and supporting the mission of the university."
Parks, who works in the library's preservation and conservations department, says the wealth of archival documentation in the special collections helped him shape his master's thesis and future career ideas.
"My experience working with preservation and conservation within the library has shown me the complexities of archival management that go along with a state-funded archival repository," he said. "After the conclusion of my master's, I hope to become part of this community by finding a career in an archive or museum within the state."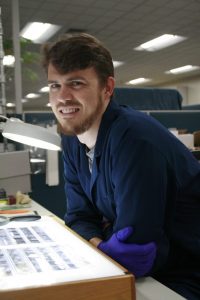 "Jacob is keenly interested in North Carolina history and in learning all things preservation," said Tracie Hampton, lab manager and student supervisor for the department of monographic acquisitions and preservation & conservation. "He also has a knack for working with the materials, so he can personally address more difficult or tricky items, which is a tremendous help to our stewardship of Joyner Library's collections."
Hampton also says Parks' enthusiasm is contagious to the other students, which raises the quality of their output and interest in Joyner's collections.
"Jacob's positive impact on Joyner Library far exceeds that of one single student."
"I would like to send a special thank you to Marie and James Thompson for providing the funds necessary to make this scholarship possible," said Parks. "The very existence of it shows that the students of Joyner Library are appreciated for their role in maintaining a quality library and university. It also shows that the ECU community will always be interested in facilitating a quality education for its students."
For more information about student employment opportunities at Joyner Library please visit https://library.ecu.edu/