ALS Fall 2020 Reopening Plan – https://bit.ly/ALSReopening
Last Updated July 23, 2020
Return to Pirate Nation – Guidelines for Campus Safety
Academic Library Services will adhere to East Carolina University's public health protocols with respect to safety and screening measures. We will implement additional measures to safeguard health and safety in the library environment.
Return of Pirate Nation – Guidelines for Campus Safety. To learn more about ECU's Plan please visit: https://returnofpiratenation.ecu.edu/

Safety Standards
We will provide adequate and appropriate cleaning services, equipment and supplies to ensure staff and user health and safety.
We will coordinate more frequent cleaning of high-touch surfaces such as elevator buttons and door handles.
We have removed or redistributed furniture to promote distancing of at least six feet. Library users should not relocate furniture.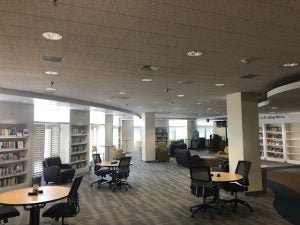 First Floor Reading Room Area
Study areas located on the 2nd Floor
Plexiglass and/or standalone shields are installed at service desks.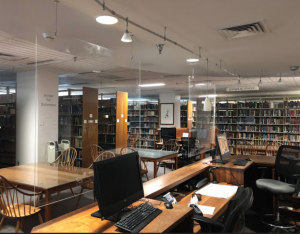 Plexiglass installed in the North Carolina Collection desk area
Hand sanitizer and sanitizing wipes are available at service desks, instruction rooms and the entrance.
Everyone in library buildings must wear face coverings in public and shared areas. Disposable masks will be available at the Security Desk.

Physical distancing of at least six feet must be maintained.
All library users and employees should follow directional and other signage intended to promote distancing.
Even with the best planning, we will not be able to control all variables or eliminate all risk.
Access to library buildings beginning August 10
Joyner Library and the Music Library will open on August 10. We will have modified hours and services.
Access to the building will be limited to ECU students, faculty and staff with an ECU 1Card or a current Distance Education Student card.
We will continuously assess conditions and learn from experience to determine whether additional services can be made available or, conversely, whether we must revisit or roll back prior decisions in the interest of the health and safety of library staff and users.
Joyner Library Hours & Information
Beginning August 10, Joyner Library hours will be Monday through Thursday, 8 a.m.–10 p.m.; Friday 8 a.m.–8 p.m.; Saturday and Sunday 10 a.m.–8 p.m.
Some computer stations and equipment have been removed in order to reduce density and high-touch surfaces. The self-service laptop kiosk will be available.
Group study rooms will be limited to no more than three people.
The Joyner Library Starbucks will operate with revised protocols. All food and drinks will be "to-go" only.
No eating will be allowed in public areas, including study rooms.
Bottle-filling stations will be operable but water fountains will be inaccessible.
Music Library Hours & Information
The Music Library, located in the Fletcher building, will be open from 10 a.m –3 p.m., Monday through Friday. Capacity is limited to 10 people. Virtual hours will be 8 a.m.–5 p.m., Monday through Friday, and Sunday 1 p.m.–5 p.m.
Access to Special Collections
The North Carolina Collection, located on the third floor of Joyner Library, will be physically open from 1 p.m. until 5 p.m., Monday through Friday.
Physical access to most Special Collections materials will be by appointment in order to minimize the number of people in the space.
Virtual Services
Academic Library Services remains available via email, chat and phone from 8am-8pm.
Ask a Librarian – We have several ways for you to contact us, including email, chat and phone. Please refer to the Frequently Asked Questions page for answers to commonly asked questions.
Our ECU Libraries Faculty Guide for Fall 2020 provides updated information for Faculty related to library virtual services and assistance.
Handling books and other library materials
We will quarantine returned library materials for 24 hours in the interest of user and staff safety.  Some equipment may be sterilized with UV light.

Materials can be returned to any book drop on campus or placed in the book drop at Joyner Library.

Equipment should be returned to the Circulation desk.
Library Instruction
Library events and programs
All events sponsored or co-sponsored by Academic Library Services will remain virtual until further notice.
Groups from outside the library may not reserve or use meeting rooms in any library facility for in-person, non-instructional events

Need additional information?
We know that members of Pirate Nation have different research, learning and teaching needs. If your question is not addressed here, or if you need assistance with library materials or services, please contact the Assistant Director for Public Services, Mark Sanders, at sandersm@ecu.edu or 252-558-3563.