Free Community Oral History Workshops | Feb. 14 & 15
Capture your history! Putting the tools in the hands of the community. Join us for a two hour workshop to learn how to conduct history interviews, plan projects, and document your own community history.
Led by National Park Service staff historian Lu Ann Jones, who specializes in oral history project planning, oral history research methods and training, and research support through the NPS.
For more information contact:
Heather White (252) 328-2870
or whiteh@ecu.edu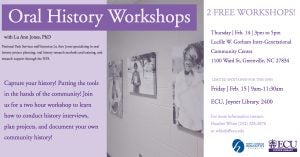 FREE COMMUNITY WORKSHOP
Thursday | Feb. 14 | 3pm to 5pm
Lucille W. Gorham Inter-Generational Community Center
1100 Ward St, Greenville, NC 27834
FREE CAMPUS WORKSHOP (spaces filling fast!) 
Friday | Feb. 15 | 9:00am-11:30am
Joyner Library, ECU
2400, 2nd floor conference room 
This is free and open to everyone. This workshop is being offered as part of a North Carolina Humanities Council Large Grant awarded to Joyner Library. Additional workshops and community programs will also be offered.