Sage Research Methods
Are you teaching research methods in the Spring? If so, investigate the Library's newest database, Sage Research Methods!
SRM is known for its Little Green Books on quantitative methods and its Little Blue Books on qualitative methods. These are perfect for use as classroom texts, and are supplemented in SRM with:
case studies
data sets
video
In addition to these gems, SRM also has a nifty Project Planner that your students will find helpful.
To learn more please visit:  Sage Research Methods!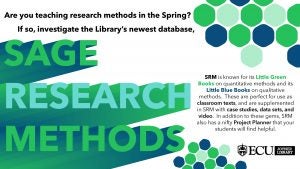 For more information please contact:
Cindy Shirkey
Head of Collection Development
shirkeyc@ecu.edu
(252) 737-2724
Joyner 1207