Conference promotes diversity, inclusion
A recent conference at ECU aimed to promote a better understanding of diversity and inclusion among paraprofessional library staff across the state.
Joyner Library's 14th annual Paraprofessional Conference, "Navigating the Path to Diversity," was held May 11 for school, public and academic library staff, who aren't professionally licensed librarians.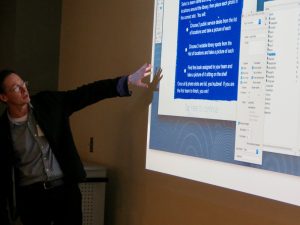 The conference provided 125 attendees an array of sessions and presentations focused on the concept that libraries should be inclusive environments that make their many resources available to all individuals in the communities they serve.
It also offered guidance on how library staff might better navigate their roles and responsibilities in creating safe environments by embracing concepts that promote an understanding of diversity.
"I think for really inclusive organizations to come into fruition, people are going to have to back down a little bit and listen," said keynote speaker Derrick Jefferson, an academic librarian at American University in Washington, D.C. "Really listen. Then listen to more people. And it's going to take a lot of talking, and a lot sharing, and a lot of conversations. I think that's when we begin breaking down walls."
For many individuals and communities, a library may be the only free source of computer and Internet access, classes and events, and special support for the disabled. Libraries also offer facilities where academic and civic groups can congregate around various local and national topics.
"Libraries aren't just books, but a pulse for the neighborhood," said Jefferson, who earned a master's in library information sciences from Louisiana State University. As a graduate student he also worked as a Project Recovery scholar in New Orleans, using grant funding from the Institute of Museum and Library Services to help rebuild libraries and educate library science students after the devastating storms of 2005.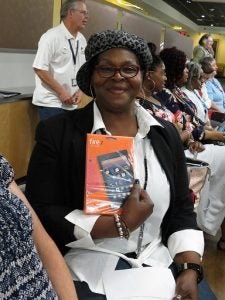 Jefferson recommended social media as a good resource for library paraprofessionals to stay up-to-date on the diversities within their communities. He said Twitter in particular can be an excellent resource for libraries to connect with people in the real world in real time.
"You have to remember when you took your very first breath in this world we live in, the mold was broken. You are exactly who you are meant to be. Don't forget that," he said. "How you represent your organization matters. How we keep that growing more powerful than any fear is by working together. From the strength we possess as a group, to each of us on a microscopic level – we can make change."
Joyner Library's SHRA Assembly sponsored the event, with additional funding provided by the ECU's Office for Equity and Diversity and the Master of Library Science Program.
By: Kelly Rogers Dilda
University Communications