Joyner Library's 2017 Paraprofessional Conference
Joyner Library's 2017 Paraprofessional Conference connects fellow institutions with community empowerment opportunities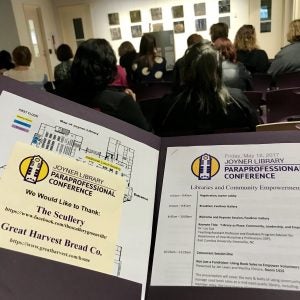 GREENVILLE, N.C. (May 15, 2017) — Joyner Library's SHRA Assembly held its 13th annual Paraprofessional Conference on Friday, May 12.
This year's theme, Libraries and Community Empowerment, addressed the role played by libraries and librarians to help individuals and communities acquire knowledge about themselves and the world around them.
Joe Barricella, digital services production coordinator for Joyner Library, said, "Our Library and librarians interact with the community daily. We offer a variety of resources, including computers and books, which allow us to serve patrons. Although Joyner Library is often thought of as being a library for only the university, one of our key goals is also to serve the public."
"The Beyond Bricks & Mortar: Revisiting the Sycamore Hill Community project is a perfect example of Joyner library partnering with the local community," Barricella explained. "We were able to offer resources they might not have had readily available. These collaborative partnerships are the types of projects we hope to continue completing in the future."
The one-day event was attended by more than 110 school, public and academic library paraprofessionals from at least 13 counties in North Carolina. In addition to a keynote presentation, attendees were offered four concurrent sessions for a total of 16 presentations about bringing positive change and growth to their home institutions.
This year's keynote speaker, teaching assistant professor and graduate advisor in the Library Science Program for the Department of Interdisciplinary Professions at East Carolina University, Dr. Lou Sua, presented a message on "Library as Place: Community, Leadership and Empowerment."
Sua believes libraries are equalizers in their communities and more important today than ever.
"It's our job to empower communities," said Sua. "We are the people who can make a difference in the lives of so many people."
With a percentage of the population unable to afford access to technology, libraries offer these resources and services for free. Libraries have also been a place where people develop citizenship skills.
"I think that we help shape our communities by providing an atmosphere for them to develop their own learning," said Sua. "And with everything that's going on now with fake news and alternative facts, it's the libraries that can help people understand exactly what is real and what is not."
She also thinks this conference gives attendees the tools they need to go back and do their jobs even better. "During this conference, people share their experiences and talk about what works well for them," she explained. "Conferences like this help someone from a library that's maybe struggling from budget cuts hear another approach to cost savings and inspire them to bring that back to their community."
Facilitated by experts in the profession, attendees were offered a variety of session topics such as the role of free educational resources for community members, outreach to community groups and special populations, and citizen science community engagement.
Tammiika Krowner works in the Curriculum Learning Resources Lab at Fayetteville State University and attended a session on open educational resources (OERs).
These are free materials that can be used as an outreach tool for the public to gain access to work that might only normally be available through a paid educational institution or school. OERs can be used as supplements or core learning for homeschool families that are on limited budgets, for those seeking additional materials, as well as self-learning and discovery.
"I work with pre-service teachers and we are moving away from textbooks towards online information," she said. "Building up those resources and the teachers' knowledge about them and where to locate them is paramount for the future."
Barricella says his biggest hope was for the attendees to enjoy themselves and learn something. "I believe this year's conference was a big success," he said. "Everyone I've spoken to has been enthusiastic about what they've learned today."
Joyner Library offers special thanks to The Scullery, Great Harvest Bread Company, Dowdy Student Stores and Bagelman for their donations in support of this year's conference:
For more information on this event or about Joyner Library, contact Kelly Rogers Dilda at rogerske@ecu.edu or 252-744-2232.