ECU's Joyner Library offers books of the human genre
Joyner Library at East Carolina University will host its fourth annual Human Library event on Tuesday, March 28, to allow students and community visitors a chance to check out human beings for a 10-15 minute conversation. The event serves to open more dialog on campus and for participants to learn more about people of all beliefs, walks of life, abilities and backgrounds.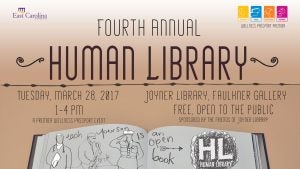 The preselected human books will be volunteers from diverse backgrounds with interesting life stories to share. From 1-4 p.m. in the Janice Hardison Faulkner Gallery, located on the library's second floor, attendees can check out one of more than 30 human books based on their book titles and descriptions. They will have a conversation with that person including a chance to ask questions to clarify misconceptions and learn more about that topic.
At least two of this year's human books will share their personal stories of living the life of a refugee.
"I feel like it is important for ECU students and people in the community to see the faces and speak directly to a few refugees," said Katy Webb, Head of Research and Instructional Services for Joyner Library. "I believe they will hear the strength, resilience and hope from people who are often labeled and minimized."
Webb brought the event to ECU in 2014 as part of her role on the university's diversity committee with co-sponsorship from the Friends of Joyner Library.
Webb said the library's diversity committee members contacted several organizations on campus, including the Lesbian, Gay, Bisexual and Transgender (LGBT) Resource Office, many student organizations and a local synagogue for volunteers willing to share their stories.
All areas of diversity, defined by The Office for Equity and Diversity, will be represented at this year's event. Human book titles offered this year include "A Tale of Two Moms," "No Animal Products Included," "Living Life as a Traveler" and more.
For more information about the event please contact Katy Webb at kavanaghk@ecu.edu or (252) 328-0734.